Sunshine is delicious, rain is refreshing, wind braces us up, snow is exhilarating; there is really no such thing as bad weather, only different kinds of good weather.  ~John Ruskin
***
A few end of year reminders …
Tuesday, June 23 is our trip to Concord and Lexington.  Please make sure that your child arrives at school between 7 and 7:15 am and has a lunch and water bottle with them.  Pick up will be at 5 pm.
There will be a bake sale for charity during lunch on Thursday.  Any students wishing to buy a treat need to have 50 cents.
Field Day is Friday, June 26.  Our class color is white.  The t-shirt doesn't need to be plain white, patterns and designs are ok.
The last day of school is Tuesday, June 30.  It is a half day for students.
***
Today, students had the opportunity to check out a summer reading book from the Mattacheese library collection.  Students also have a "book hook" assignment to complete based on their summer reading.  For more details go to: http://www.dy-regional.k12.ma.us/mattacheese-middle-school
***
Today we experimented with the effects of pressure on a liquid, by mixing cornstarch and water.  Earlier this year we explored the different properties of liquids and solids by creating "ooblek" using the recipe below:
Mix 1 teaspoon of Borax with 1 cup of water. Then, mix 1/2 cup white glue, 1/2 cup water and a few drops of food coloring.  Combine the glue mixture with the Borax mixture.
Enjoy!
***
Some say that the moon is made of cheese, but we know that it's made with Oreos!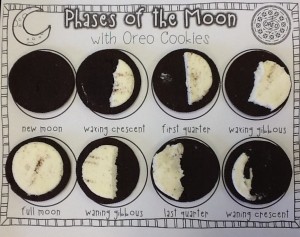 ***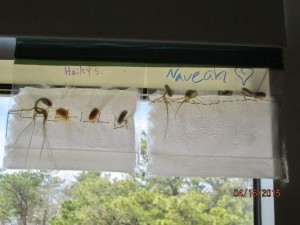 Check out our "Germinator" project! (http://pbskids.org/zoom/activities/sci/germinator.html)  We reviewed the names and purposes of each of the parts of a plant. Within days of placing the bean into a baggie with water and taping it to our window, the seeds sprouted roots and then shoots!  In only 10 days, our seedlings are ready for planting.
***
The students worked hard to complete the first round of PARCC tests.  We are all looking forward to returning to our normal classroom routines for a few weeks before the End of year PARCC assessments begin during the week of May 11.
***
We had a very successful week in Truro! You can see more photos on the Truro Tales page.
***
We had a great time creating a slightly evil-looking Cookie Monster for the annual pumpkin decorating contest and it was a lot of fun seeing all of the pumpkins decorated by the other classes!  To see more pictures, please visit the Wixon home page.
***
Wow! What a busy start to the year.  Cooperative Games Day was a fantastic way to get to know our classmates and begin working together as a team.  We enjoyed having summer reading book clubs, and an ice cream social. During our fun-filled trip to Fenway we learned the basics of weather from Fox25 meteorologist, Kevin Lemaowicz, field maintenance from Dave Mellor, the head of grounds keeping for the Red Sox, and then we got to watch the game from our seats high in the bleachers!  We are just now settling into our academic routines and look forward to a successful year.
***
Welcome! We have an exciting year ahead of us. This year you will be part of a team.  Mrs. Sullivan and I work together.  She teaches social studies and ela (english language arts), while I teach math and science.  A highlight of your year will be our trip to Truro, but we have many other exciting classroom activities planned as well.Click here to see a slideshow about Fifth Grade.
***
Massachusetts has joined with many other states to create the Common Core curriculum.  Our instruction and assessments are based on these new curriculum standards.  Click here to see an overview of the math standards.  You can access the Massachusetts Department of Elementary and Secondary Education website by selecting this link.
***
Check out the "At the Seashore" links and the "Truro Tales" page to watch videos, read our class newsletter, and find out everything you need to know about our trip to Truro!
***
Need help with homework?  Looking for something to do on a rainy day? Please check out the list of student safe websites in the blogroll, Science Links and Math Links!
***
Struggling with math skills?  Try Khan Academy!  This site provides tutorials and opportunities to practice a wide variety of math skills.  It's like having a private tutor on your computer!
***
Please use the link below to view this year's school calendar.  As dates for conferences, PARCC testing, and other important events become available I will post them here.
June 15 ~ Band, Chorus, Orchestra Concert 7pm
June 23 ~ field trip to Concord and Lexington
June 26 ~ Field Day
June 30 ~ Last day of school – 1/2 day for students, promotion ceremony @ 9am
***
 Supply lists for 2014-2015